I'm always thrilled when I get to photograph a whole feature for a magazine as it's lovely to see the results sitting well together.  This article was for Woman magazine and features the stories of the children behind poster campaigns.  I photographed Beth and her son Dougie at an amazing children's hospice in Sheffield (Bluebell Wood) and then we photographed the rest of the mums and their children at a gorgeous hired location in Birmingham working as a team with the picture editor, stylist and make up artist.  The children were all fantastic and took stardom in their stride.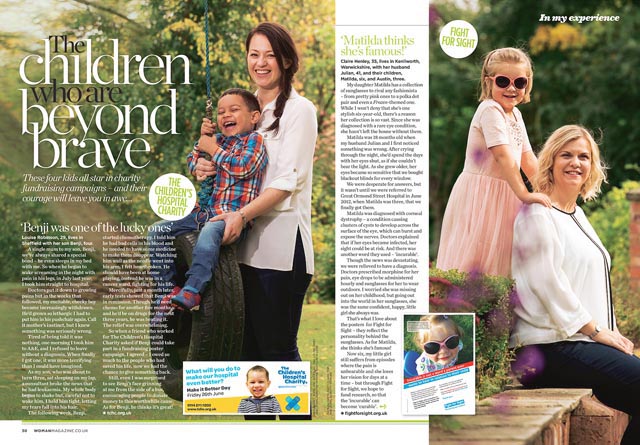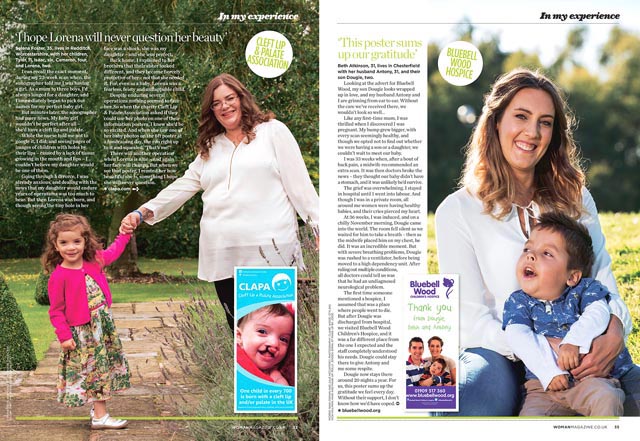 And now a photoshoot for Pet's at Home VIP magazine with a trip to Chesterfield to photograph dog groomer Sophie Dalney.   Sophie was fantastic and was very relaxed in front of the camera – the same can't really be said for her clientele!  However with patience, perseverance and Sophie's natural and calming way with dogs, we got there in the end…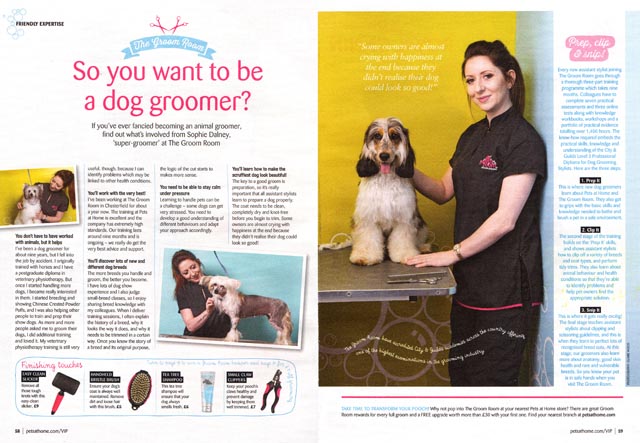 SMRS, an agency in Manchester which specialises in promoting places to study and places to work, commissioned myself and videographer's Paul Morricone & Tim Rawson to capture the atmosphere and culture of working environments within Swinton Insurance offices for their recruitment site.  I enjoyed the freedom of this documentary style job – just wandering around with my camera waiting for the right moment.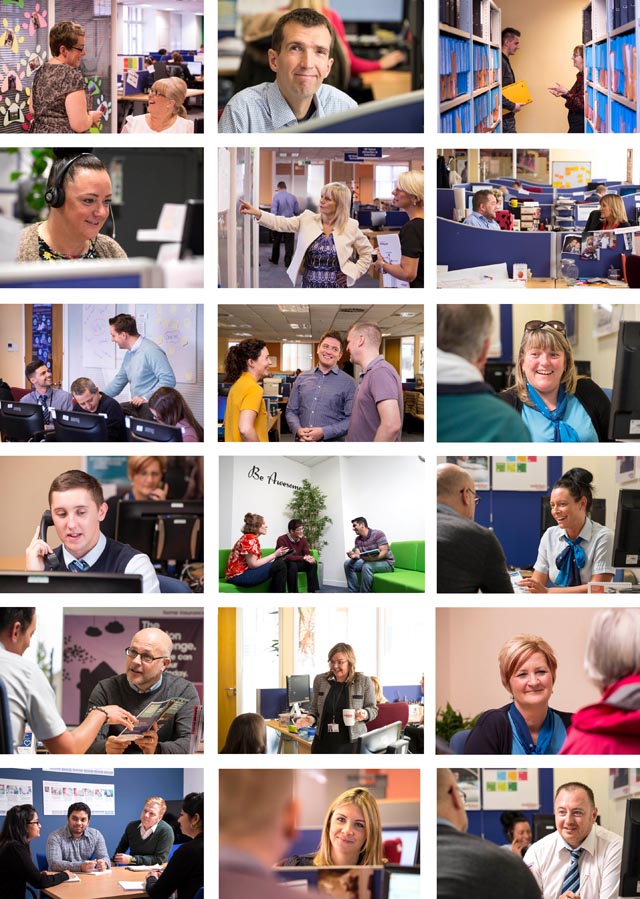 This was fun – behind the scenes at Channel 4's new format of 'Come dine with me'.  I adore going behind the scenes of just about anything (because I'm so nosy) and it was great to see how this show is put together.  It was really quite fast paced but the team worked so well together – calmly bringing all the aspects together at just the right time.  The contestants were a fun bunch of previous winners so they were used to the cameras.  On this type of job you have to know the right time to step in and get what you need and you have to step up and take control while the production crew try not to stamp their feet impatiently…
Ah – the lovely BBC Radio Manchester sports team looking all glamorous and polished.  They are a really friendly bunch. Jack Dearden (on the right) is one of my favourite presenters to photograph.  He always comes along very snazzily dressed and he's such a natural charmer in front of the camera.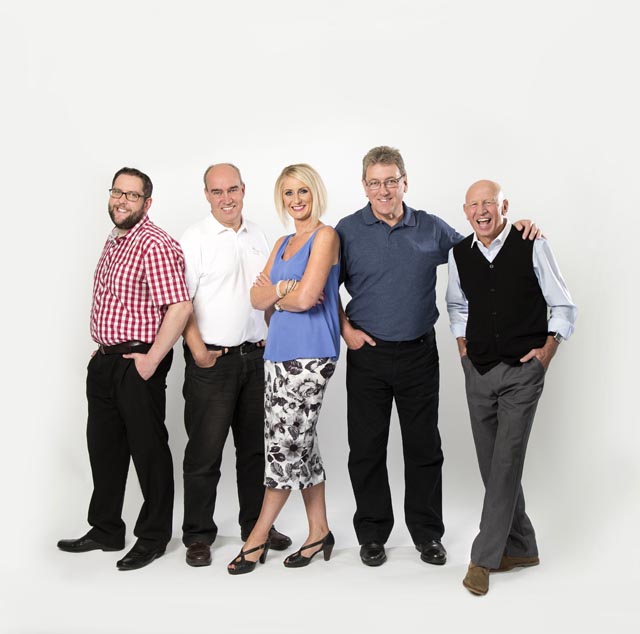 I was approached by the charity DEBRA to do a local photoshoot.  DEBRA is the national charity that supports individuals and families affected by Epidermolysis Bullosa (EB) – basically a condition where the skin just falls off.  I remembered having watched the documentary 'The boy whose skin fell off' – about Jonny Kennedy and how moved I had been and so I was glad to have the opportunity to do this job for free.  To be honest I didn't know how Riley was going to be – I thought the constant pain would mean he would be uncommunicative and introverted.  I couldn't have been more wrong!  Riley is a gorgeous, chatty, cheeky boy with a fab sense of humour. I really enjoyed spending time with him – he is an inspiration.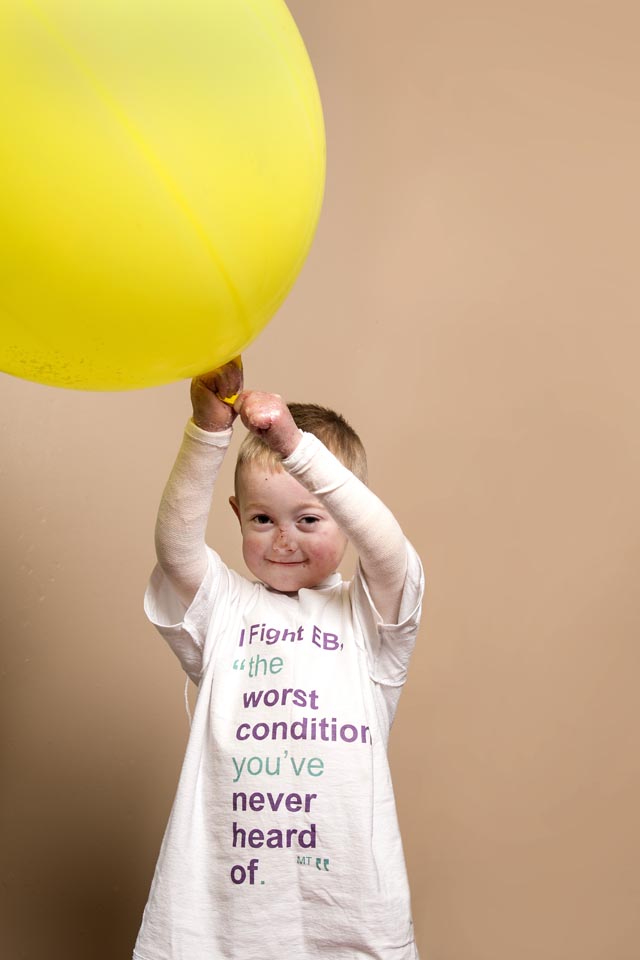 And lastly, for Closer magazine, a portrait of therapist Emma Kenny and her husband, who in conjunction with Closer, have launched a well being website 'make your switch'.  The website looks amazing and is packed with good advice.  It even has Dr Hilary Jones as ambassador for health – what more could you want?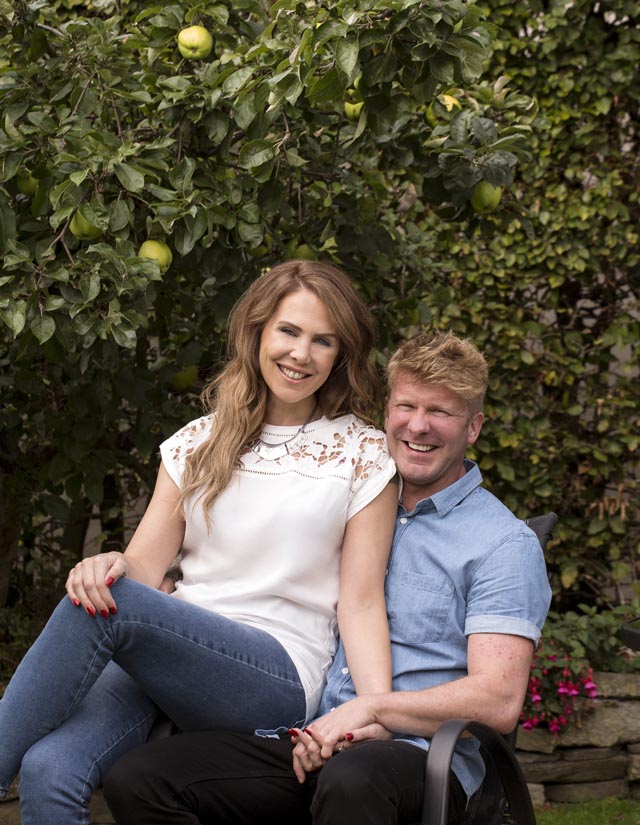 Thank you for reading my newsletter – the next one will be along in August. Bye for now.
Claire.